Looking for The Loyalty Report 2022
and our Pathways to Growth Guide?
Click here to Download

View and download your copy of the 2021 Executive Summary today!
In partnership with Visa, the Loyalty Report 2021 is recognized as the industry's longest-standing and largest study on customer engagement, loyalty attitudes, behaviors, drivers and disruption.
In the last year, disruption has taken on an entirely new form to turn the world on its head. Seemingly overnight, behavior changes accelerated exponentially —forming a chasm between the old world and the new. As routines continue to be rejigged, rituals re-imagined and expectations are constantly being reset, The Loyalty Report has experienced its own set of changes.

Our 2021 report explores how consumer sentiment has shifted over this unparalleled year, with refreshed data reorienting us and providing focal points for brands looking to survive, contend and lead the pack in our new normal.

Now in its 11th year, the 2021 report features an unprecedented assessment of over 450 Loyalty Programs, by more than 35,000 North American consumers across a range and 85+ attributes of key sectors including:
Retail
Airline
Grocery
Entertainment
Gas
Delivery (new)
Dining
Payments
Hotel
and more...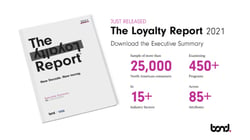 View and download the US or Canadian version of the Executive Summary by filling out the relevant form.