Looking for The Loyalty Report 2022 and our Pathways to Growth Guide?
Click here to download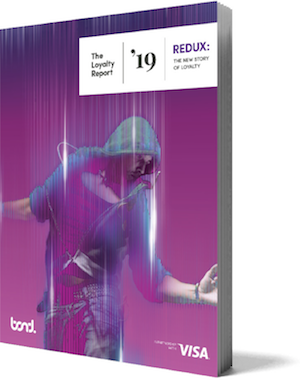 In partnership with Visa, The Loyalty Report 2019 is recognized as the industry's longest-standing and largest global study on customer engagement, loyalty attitudes, behaviours, drivers and disruption.
To leverage the full power of Loyalty, Programs need to work harder to improve the customer experience, help the Brand deliver on its promise, and drive member engagement. In this Executive Summary , we examine six opportunities that will help your program move the needle on key drivers and craft your new Loyalty story for 2019.
Revisit Personalization
Rethink Gen Z & Young Millennials
Remake the Redemption Experience
Renew focus on the Power of Partnerships
Reimagine the Member Journey
Retake on Game Science & Mechanics
Now in its ninth year, the expanded 2019 global report features an unprecedented assessment of over 900 Loyalty Programs, in over 20 markets, by more than 55,000 consumers across a range and 50 attributes of key sectors including:
Retail
Grocery
Gas
Dining
Hotel

Airline
Entertainment
CPG
Payments
and more …
Get more from the Loyalty Report 2019
Contact us for more detailed report findings, to learn about purchasing the complete report, or to schedule a Customer Engagement Mapping Workshop.