Recognized in report as a large vendor whose primary functionality segments are Hybrid loyalty solutions, defined as those with capabilities to address the broadest spectrum of loyalty requirements, from strategy to program management to loyalty measurement and analytics.
Toronto and New York, Oct 29, 2018—Bond Brand Loyalty, a global customer engagement agency, has been included in Forrester's Now Tech: Loyalty Marketing, Q4 2018 report and has been named as one of the large established providers based on market presence.
This is Forrester's latest report on Loyalty Marketing vendors, which they define as "services and technology providers that help marketers build and execute strategies—including tactics such as loyalty programs—that foster, retain, and deepen relationships with existing customers."
Forrester's Now Tech report is designed to help marketers understand the value they can expect from loyalty marketing providers and to help select vendors based on size, geography, vertical market focus, and capabilities to assist them:
Design data-driven strategies.

Manage and execute loyalty programs and campaigns.

Support loyalty measurement and analytics.
"Bond has long been committed to helping our clients build deeper, more meaningful, and personalized experiences with their most important and valuable customers. This recognition by Forrester is, in our opinion, a testament to our focus on being a leader in designing, building, and operating innovative data-driven strategies and engagement programs that deliver positive business growth and measurable results for clients across the sectors we serve," said Bob Macdonald, President and CEO, Bond Brand Loyalty.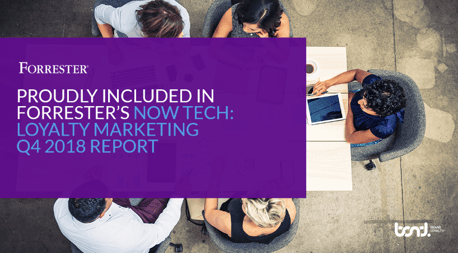 Bond proudly serves clients globally in automotive, financial services, retail, hospitality, and other key verticals. The company leverages data insights in combination with the science of human motivation, to develop unique strategies that consider both human and digital experiences that are powered by Bond's Synapze Engagement Platform and partnerships. Bond's holistic approach considers all audiences in the ecosystem involved in delivering loyalty marketing—employees, channels, and consumers.
Learn more about Forrester's Now Tech: Loyalty Marketing, Q4 2018. The report is available to Forrester subscribers for purchase.
About Bond Brand Loyalty
Bond Brand Loyalty is a global customer engagement agency that specializes in building brand loyalty for the world's most influential and valuable brands. Our mission is to make marketing more rewarding for customers, richer and more resilient for brands, and to deliver profitable business outcomes for our clients. We build measurable, authentic, and long-lasting relationships through a combination of services that includes loyalty solutions, customer experience, marketing research, customer analytics, live brand experiences, and proprietary technology platforms. Visit our  website, follow us on LinkedIn and Twitter, or contact us at 1-844-277-2663.
###