Toronto, ON—May 10th, 2022—Bond, a leading customer experience, loyalty and growth firm, has been named one of Canada's Best Managed Companies, recognized for its overall business performance and sustained growth. This marks the fifth consecutive year for Bond, who was a program winner in 2018 and requalified again in 2022 to maintain its status as a Best Managed Gold Standard company.
Each year, hundreds of leading companies compete for this designation in a rigorous process that evaluates the calibre of their management abilities and practices. As a 2022 Best Managed program award winner and amongst best-in-class Canadian-owned and -managed companies with revenue over $50 million, Bond stood out for its vision, commitment to and success in the execution of its strategy, capabilities and innovation, strong culture and commitment, as well as performance and financials to achieve sustainable growth.
"It's a wonderful honour to once again be recognized as one of Canada's Best Managed Companies," said Bob Macdonald, CEO of Bond. "We are extremely grateful for the significant growth that Bond is experiencing and see this recognition as a testament to our organizational culture, dedicated people and strong leadership team."
In the past year, Bond has made significant investments in people, process, capabilities, technology and innovation, as the firm builds on its ambitious growth agenda and global expansion strategy. Since 2020, Bond has made two acquisitions: rDialogue, a loyalty consulting firm with offices in Atlanta and Denver, and Drumroll, an Austin-based brand experience agency.
With the acquisitions and new talent hired to support Bond's expanded capabilities and growing client roster, Bond now has 800 employees across six North American offices in the US and Canada. The firm's impressive client roster includes leading customer-centric brands such as Ford Motor Company, CIBC, Visa, lululemon, L'Oreal, Scene+ and others.
"The 2022 Best Managed winners exemplify innovation, adaptability, and resilience in the face of uncertainty," said Lorrie King, Partner, Deloitte Private and Co-Leader, Canada's Best Managed Companies program. "Over the past year, these forward-forging companies have pivoted to successfully respond to challenges and capitalize on new opportunities, leveraging industry-leading competencies to maximize their investments and drive sustainable growth."
Now in its 29th year, Canada's Best Managed Companies remains one of the country's leading business awards programs recognizing Canadian-owned and managed companies for innovative, world-class business practices.
About Canada's Best Managed Companies
Canada's Best Managed Companies continues to be the mark of excellence for Canadian-owned and -managed companies with revenues over $50 million. Every year since the launch of the program in 1993, hundreds of entrepreneurial companies have competed for this designation in a rigorous and independent process that evaluates their management skills and practices. The awards are granted on four levels: 1) Canada's Best Managed Companies new winner (a new winner selected each year); 2) Canada's Best Managed Companies winner (award recipients that have reapplied and successfully retained their Best Managed designation for two additional years, subject to annual operational and financial review); 3) Gold Standard winner (after three consecutive years of maintaining their Best Managed status, these winners have demonstrated their commitment to the program and successfully retained their award for 4–6 consecutive years); 4) Platinum Club member (winners that have maintained their Best Managed status for seven years or more). Program sponsors are Deloitte Private, CIBC, The Globe and Mail, Salesforce and TMX Group. For more information, visit www.bestmanagedcompanies.ca.
About Bond
Bond generates growth for clients by creating enduring relationships between people and brands based on intelligent connections and engaging experiences. Bond serves clients globally with data-driven customer experience and loyalty solutions that enable brands, customers, employees, partners and the communities they serve, to experience the benefits of growth. Headquartered in Toronto, Bond is management-owned with more than 800 people and six offices across North America. For more information, visit us at bondbrandloyalty.com or follow us on LinkedIn, Twitter, and Instagram.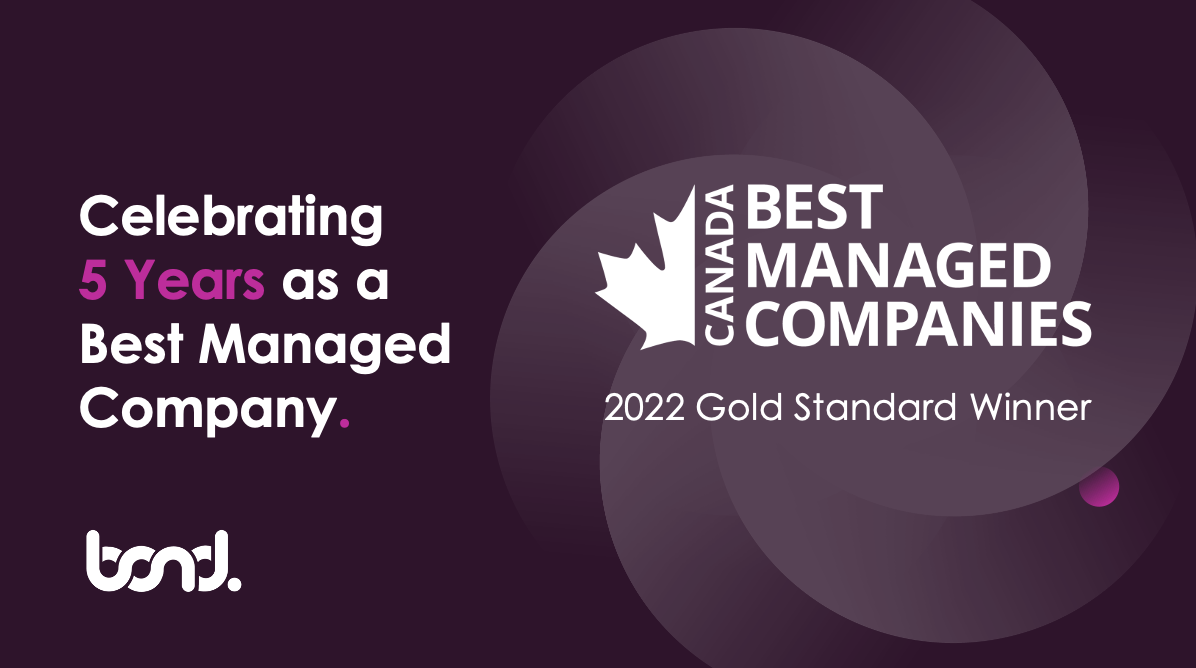 For more information, please contact:
Bond
mediarelations@bondbl.com

###